All Items in the Bronze Package Included
Additional Textbook:

Principles of Home Inspection - Systems & Standards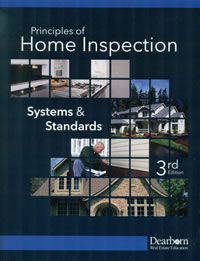 Course Information
Home Inspection requires comprehensive technical knowledge of building systems, materials, and mechanics to building systems that you will encounter and evaluate as a home inspector, this course will provide that. The course will also provide a solid understanding of inspection processes, strategies, and standards of practice that will help define the scope of your inspections.
The course provides descriptions of every major house system and component including:
340 detailed technical illustrations on visual inspections
Inspection checklists to help students review key points and begin organizing their approach to actual inspections
Explains the component problems, their applications, and the inspection strategies for finding them
Eleven hours of video instructions
Summary of inspection procedures for each major system
List of recommended and optional inspection tools for each major system
Interactive exercises
Progress quizzes
Topics Covered:
Standards and Reports
Exteriors
Roofing
Structure
Insulations and Ventilation
Interiors
Electric Systems
Gas Furnaces
Oil Furnaces
Hot Water Boilers
Other Aspects of Heating
Air-Conditioning and Heat Pumps
Plumbing
Planning and Market
Seat time
Seat-time: This online course is built around a student taking 120 hours to take the course BUT there is NO seat-time requirement for this distance learning course.   So the student can take the course in 70 hours or 150 hours. The objective is to learn the material to pass the course and the State Exam, if that is one's goal.
Non-movement of the mouse for more than 20 minutes will disengage the student from the course.
License Application Process
Education is good for Forever from the completion date of the pre-licensing course.
As you get to the end of your course, begin the process of your state application and fingerprinting.
State Application - Home Inspector - Initial Active License by Examination (HI 0401)

Application fee: $125.00 - Application Link
All requests for publications, documents, forms, applications for licenses, permits and other similar certifications can be obtained by contacting the Customer Contact Center.
Division of Professions
Home Inspectors Licensing Program
2601 Blair Stone Road
Tallahassee, FL 32399-0791
Telephone: 850.487.1395
Facsimile: 850.488.8040
Fingerprinting
Applicants can use any Livescan vendor that has been approved by the Florida Department of Law Enforcement to submit their fingerprints to the department. Please ensure that the Originating Agency Identification (ORI) number is provided to the vendor when you submit your fingerprints.
NOTE: Failure to provide an ORI number or incorrect ORI number to the vendor will prevent DBPR from receiving your fingerprint results.

The applicant is fully responsible for selecting the vendor and ensuring submission of the prints to the department. The Department of Business and Professional Regulation (DBPR) requires the submission of a full set of fingerprints with most licensure applications.

To select an approved FDLE Livescan vendor from the link below. You will need to provide an ORI number to the vendor so they can submit the fingerprints directly to FDLE. Submit a copy of your receipt with a completed application for licensure. NOTE: The Livescan vendor will charge you directly for the fingerprint scan.

The total fee charged by each vendor varies. Please contact the vendor to obtain this information. The fingerprint results are usually received by the department two to four days after your fingerprints are scanned.
ORI number - FL 924250Z
Criminal History Records Link


Course Outline
Unit 1 - Standards and Reports
Unit 2 - Exteriors
Unit 3 - Roofing
Unit 4 - Structure
Unit 5 - Insulations and Ventilation
Unit 6 - Interiors
Unit 7 - Electrical Systems
Unit 8 - Gas Furnaces
Unit 9 - Oil Furnaces
Unit 10 - Hot Water Boilers
Unit 11 - Other Aspects of Heating
Unit 12 - Air-Conditioning and Heat Plumps
Unit 13 - Plumbing
Unit 14 (Appendix) - Planning and Marketing

Instructor Support:

After you enroll, a licensed real estate instructor will be available for questions Monday through Friday between 8:30 A. M. and 5:00 P. M. EST. We encourage students to e-mail the instructor with questions regarding the On-Line course at

Info@CookeSchool.com

. With an e-mail to the instructor, the student will have a written document of the response. For questions by e-mail, there is a 24-Hour response time Monday through Friday. E-mails over Saturday, Sunday, or a legal holiday will be returned on the first business day.
Technical & On-line Course Overview:
Technical Issues:
Please view the following items:
To experience the best results from a technical perspective on the course, please view the following RECOMMENDED SOFTWARE.
We recommend using Mozilla Firefox as your Web Browser: Download for PC and Mac
At this time we DO NOT recommend using the Microsoft Edge web browser.
Call TOLL FREE (800)943-9993 Monday through Friday 8:30 A. M. to 5:00 P.M. EST.
E-mail Info@CookeSchool.com.
Frequently Asked Questions
If I forget my real estate course password, where can I find it?
Please call the school at 1-800-943-9993 Monday - Friday between 8 am to 5 pm Eastern Standard Time, or send an email to info@cookeschool.com.
My video won't play.
Check the Internet connection, and change the browser to Mozilla Firefox, some computers need to download Microsoft Silverlight. Or you may call the Cooke Real Estate School at 1-800-943-9993 Monday - Friday between 8 am to 5 pm Eastern Standard Time.
My score isn't showing up in the grade section.
Refresh your browser, sometimes there is a very short delay.
Can I use my tablet?
Tablets and Kindalls are not recommended because of connectivity issues and stability, especially for timed end-of-course exams.
Does the real estate license course work on all the platforms?
Yes
Once I log into my course page, do I have to log in each time using my username and password?
Yes
I watched the video course presentation but I still can't move forward, what do I do?
Be sure to click on the 'SAVE AND RETURN' button, or simply refresh your page.
If I have a question regarding a quiz question(s), how can I get help?
There are three different aspects of communication with the school: phone, email, or live chat. The school makes a big effort to respond within 24 hours if by email. On weekends and holidays, we also try to respond within 24 hours, sometimes it may be the next business day.
Once I register how quickly can I start?
Upon registration, there are two emails sent to the student. One is a receipt and the other contains your username and password. Students can then access their Course Page right away and start the course.
All courses come with a real estate course textbook(s), should I wait until I have the book to start?
Having a textbook is a VERY important part of the course, but you can certainly start without it. The school recommends waiting until you receive the companion textbook.
Is the course evaluation necessary for me to complete the course?
Yes, the evaluation needs to be completed. The evaluation is mandated by ARELLO which is required by the state regulatory agencies. Any comment that you would like to make that we can post on our Testimonial page is very much appreciated.
Is a Student Affidavit required to be completed to obtain a certificate of completion?
Yes, mandated by regulatory agencies.
What happens if I have technical issues?
If you are having a technical issue, please call during regular business hours or email Cooke Real Estate School so we can determine what the issue is. If we can't solve it over the phone, we recommend allowing your tech staff to access your computer device, so we can see the same thing you are seeing. For students that are taking the course with an iPad or iPhone, our technicians will not be able to access those devices.